Riptide K9 utilizes state of the art animal housing for your pet while staying with us.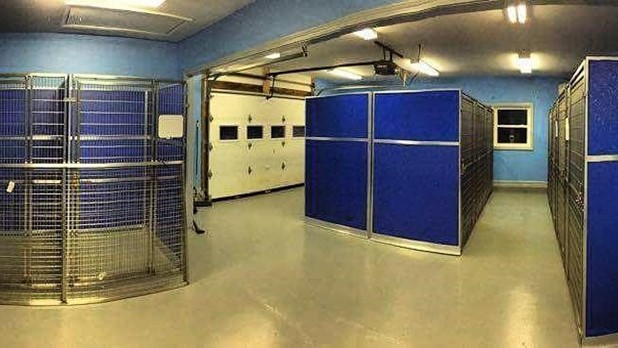 Our newly renovated state of the art, space ensures Each dog gets a 4×4 cozy kennel run which is constructed of fiberglass reinforced plastic on three sides (6 feet high) with beautiful stainless steel, welded wire doors with safety latches. Some of our kennels have glass doors. The kennels are completely sealed for sanitation purposes and ensure no cross contamination of fluids.
Kuranda Bed
Each dog gets an appropriately sized Kuranda bed for sleeping/resting, constant access to water and will be on a 2x a day feeding schedule (in addition to training treats during their sessions!)
UV Sterilizer Air Purifiers
Riptide K9 also uses UV Sterilizer air purifiers in the kennel, along with intake and exhaust fans to ensure adequate circulation and sterilization of the air to aid in the prevention of certain airborne viruses such as Bordatella (kennel cough).
Climate Controlled
The kennel is also equipped with air conditioners in the summer months and a state of the art propane heater with thermostat control for those cold winter months to ensure your pet stays cozy. (Climate control is very important!)
Fully Staffed
Riptide K9's staff works diligently throughout the day to ensure proper sanitation protocols are met. We are fully insured and current on our commercial kennel license with the town of Middleboro.